Post by WeAreAllOne on Feb 21, 2017 11:40:45 GMT -8
I plan on posting all relevant California news here in regards to the storms, flooding, leve breaks, etc. It is quite unfortunate what is playing out there. Below is a link for the current inflow and outflow levels of the Oroville Reservoir that is behind the Oroville Dam.
public.tableau.com/profile/publish/OrovilleDamMonitoringDataviaCDEC/Dashboard1#
!/publish-confirm
Here is a Live feed of Lake Oroville.
To provide some context for anyone out of the loop. Oroville dam is a earthen dam that holds back Lake Oroville Reservoir. Below is a picture of what it normally looks like
As you can see in that picture, it is quite a large body of water. You have the main dam to the right which is the huge wall of concrete, and then to the left you can see what is known as the "main spillway." This is where some of the problems lie. A hole opened up suddenly one day and begin to erode quite quickly.
It quickly began to deteriorate and as of now that main spill way looks like this.
This was when engineers shut off the flow and inspected the damage (before it got super bad as you see in the photos above)
5 Workers were fired for posting photos to social media. This was one of those photos that was taken that resulted in disciplinary action.
At one point, water officials had to use the emergency spillway. This resulted in a lot of damage and erosion, and hopefully it wont be used again.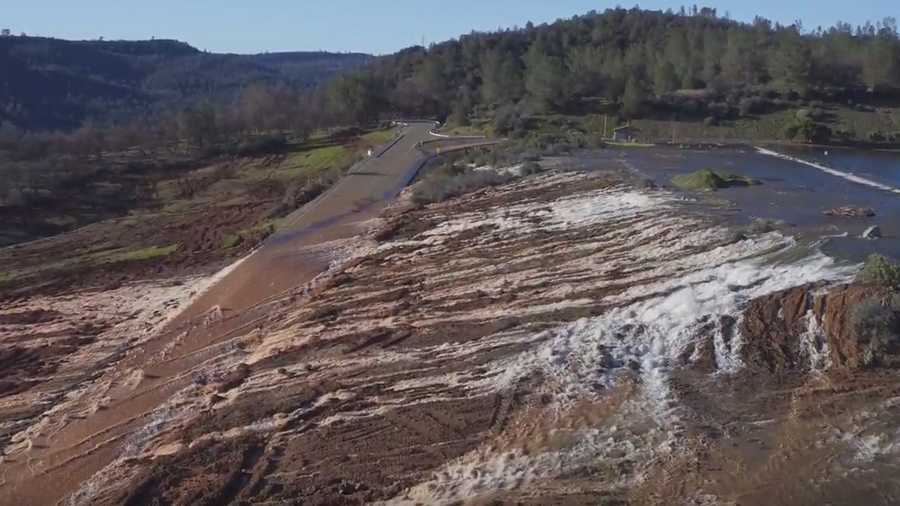 Below are some additional information, photos, and links. Prayers out to everyone, and hopefully this improves.
The above image is from sacramento. Most rivers/streams etc are overflowing their capacity and in some cases leve's have been breached. Some towns are flooded already.
abcnews.go.com/US/wireStory/latest-heavy-downpours-hit-soggy-california-45614103
www.cbsnews.com/news/evacuations-flash-flood-warnings-downpours-in-already-drenched-northern-central-california/
www.usnews.com/news/california/articles/2017-02-21/the-latest-evacuation-order-remains-after-levee-breach
February 20, 2017 San Joaquin River levee break near Manteca, in San Joaquin County, California as seeSan Joaquin County Office of Emergency Services CBS SACRAMENTO/SAN JOAQUIN COUNTY OFFICE OF EMERGENCY SERVICES
Water flows into iconic Glory Hole spillway at Monticello Dam on February 20, 2017, in Lake Berryessa, California; water was flowing for the first time in over a decade into the 72-foot diameter hole due to the recent storms in California; the unique spillway operates similarly to a bathtub drain ERIC RISBERG, AP
Feel free to share, discuss, comment, etc. Wishing the best for everyone in California.