Post by WeAreAllOne on Feb 11, 2017 20:51:45 GMT -8
Jan. 22, 2014: Scientists using the Herschel space observatory have made the first definitive detection of water vapor on the largest and roundest object in the asteroid belt, dwarf planet Ceres.
"This is the first time water vapor has been unequivocally detected on Ceres or any other object in the asteroid belt and provides proof that Ceres has an icy surface and an atmosphere," said Michael Küppers of ESA in Spain, lead author of a paper in the journal Nature.
Scientists believe Ceres contains rock in its interior with a thick mantle of ice that, if melted, would amount to more fresh water than is present on all of Earth. The materials making up Ceres likely date from the first few million years of our solar system's existence and accumulated before the planets formed.
Until now, ice had been theorized to exist on Ceres but had not been detected conclusively. It took Herschel's far-infrared vision to see, finally, a clear spectral signature of the water vapor. But Herschel did not see water vapor every time it looked. While the telescope spied water vapor four different times, on one occasion there was no signature.
Here is what scientists think is happening: when Ceres swings through the part of its orbit that is closer to the sun, a portion of its icy surface becomes warm enough to cause water vapor to escape in plumes at a rate of about 6 kilograms (13 pounds) per second. When Ceres is in the colder part of its orbit, no water escapes.
The strength of the signal also varied over hours, weeks and months, because of the water vapor plumes rotating in and out of Herschel's views as the object spun on its axis. This enabled the scientists to localize the source of water to two darker spots on the surface of Ceres, previously seen by NASA's Hubble Space Telescope and ground-based telescopes. The dark spots might be more likely to outgas because dark material warms faster than light material. When the Dawn spacecraft arrives at Ceres, it will be able to investigate these features.
---===---===---===---
Above information from:
science.nasa.gov/science-news/science-at-nasa/2014/22jan_ceres
---===---===---===---
Water Ice Found On Dwarf Planet Ceres, Hidden in Permanent Shadow
Just like the moon and Mercury, the largest asteroid in Earth's solar system, Ceres, has cold pockets of perpetual darkness on its surface where researchers have now detected ice, a new study finds.
It remains a mystery, however, why only small amounts of ice were detected in these shadowy crater floors, the authors of the new research say.
With a diameter of about 585 miles (940 kilometers), Ceres is referred to as both an asteroid and a dwarf planet. It is the dwarf planet closest to Earth and the largest member of the solar system's main asteroid belt, located between Mars and Jupiter. Water is not entirely uncommon on Ceres — previous observations revealed plumes of water vapor erupting from Ceres, exposed water ice has been seen at mid-latitudes (although only in a rare instances), and the dwarf planet's surface material is a mixture of rock and ice; additional research has suggested that Ceres possesses a substantial amount of ice under its surface. [Amazing Photos of Dwarf Planet Ceres]
---===---===---===---
Above information is from,
www.space.com/35035-water-on-ceres-in-permanent-shadow.html
---===---===---===---
Water, Water Everywhere on Dwarf Planet Ceres
There's water, water everywhere on the dwarf planet Ceres, according to new research. New observations have provided direct evidence that water ice is ubiquitous on the surface and shallow subsurface of this massive asteroid.
Ceres is the largest object in the asteroid belt that lies between Mars and Jupiter, and has long been suspected of containing significant amounts of water — estimates projected up to 30 percent of its total mass. Evidence has pointed to water ice being mixed with the rock on Ceres' surface, and in a few rare cases, more concentrated patches of exposed ice have been found. Ceres has even belched up plumes of water vapor.
The new results come from a global map of Ceres showing the distribution of hydrogen, which can then be used to infer the presence of water. The data supports the theory that Ceres' water content separated from the rock content, and formed an ice-rich crust on the dwarf planet. The fact that so much water is still present on Ceres "confirms predictions that water ice can lie for billions of years within a meter of the surface," the authors write in the new paper detailing the findings. [Amazing Photos of Dwarf Planet Ceres]
The global map was created using an instrument on NASA's Dawn probe, which is currently orbiting the dwarf planet, called the Gamma Ray and Neutron Detector (GRaND). This instrument detects two kinds of particles: neutrons, one of the particles that make up atoms, and gamma rays, very high-energy light. When cosmic rays (very high-energy particles from space) crash into the surface of the dwarf planet, the collision can create a spray of debris particles, including neutrons and gamma rays. But the debris isn't random; the characteristics of some of those gamma rays and neutrons can provide information about the chemical composition of the surface of Ceres and to certain depths below the surface. So scientists looking at data from GRaND can learn about the abundance of elements, including potassium, iron and hydrogen on the surface of Ceres, and to a depth of about 3 feet (1 meter).
The instrument cannot directly detect water molecules, but that can be inferred from the data, according to the authors. One way this is done is with computer models, which can recreate the evolution of Ceres, producing various possible outcomes that show how those elements (and water) would be distributed today.
Comparing the models with the new map shows that water ice on Ceres is concentrated near the poles: At high latitudes (past about 40 degrees in both hemispheres), water ice on the surface of Ceres and in the layers just under the surface may compose up to 27 percent of Ceres' mass, according to the new research. Near the equator, the water ice concentration is much lower.
They researchers also compared the map of Ceres with a map of Vesta, another body in the asteroid belt. The data from those global maps show that Ceres has over 100 times more hydrogen than Vesta, and that the hydrogen is distributed more evenly over the surface. That indicates some kind of global process, which implies that water was (and still is) a large component of Ceres' composition, according to the lead author of the new research, Thomas Prettyman, principal investigator for GRaND. Prettyman spoke at a news conference today (Dec. 15) at the annual meeting of the American Geophysical Union in San Francisco.
Prettyman also noted that Ceres' composition has been compared with a family of meteorites called carbonaceous chondrites. These rocks, like most asteroids in the asteroid belt, have evolved very little since the early days of the solar system. But the new map (which also shows the distribution of iron and potassium on Ceres) shows some key differences between Ceres and these meteorites.
"If you look at the elemental composition of Ceres, it bears some resemblance to the carbonaceous contrite meteorites," Prettyman said. "But there are differences that support the idea that ice and rock that came together and formed Ceres actually separated in the interior and were redistributed by processes like convection."
It is possible that Ceres harbors a liquid ocean deep below its surface, but if that is the case, the ocean is likely composed of a very salty chemical mixture, with little or no water, according to Carol Raymond, deputy principal investigator of the Dawn mission, who also spoke at the news conference. Instead, the new results indicate Ceres' water is largely stored in ice deposits near the surface.
A separate study appearing in the journal Nature and also released today revealed the presence of a concentrated patch of surface ice on Ceres, located in a regions cloaked in permanent shadow. But this and other patches of surface ice deposits are "rare," according to the paper's authors, and don't add up to anywhere near the total amount of ice now thought to lie buried just under Ceres' surface.
The Dawn probe entered into orbit around Ceres in March 2015. The spacecraft completed its primary mission in June, and continues to study Ceres as part of its extended mission.
---===---===---===---
Above information from,
www.space.com/35052-water-everywhere-on-dwarf-planet-ceres.html
---===---===---===---
Hunt for water at Ceres goes underground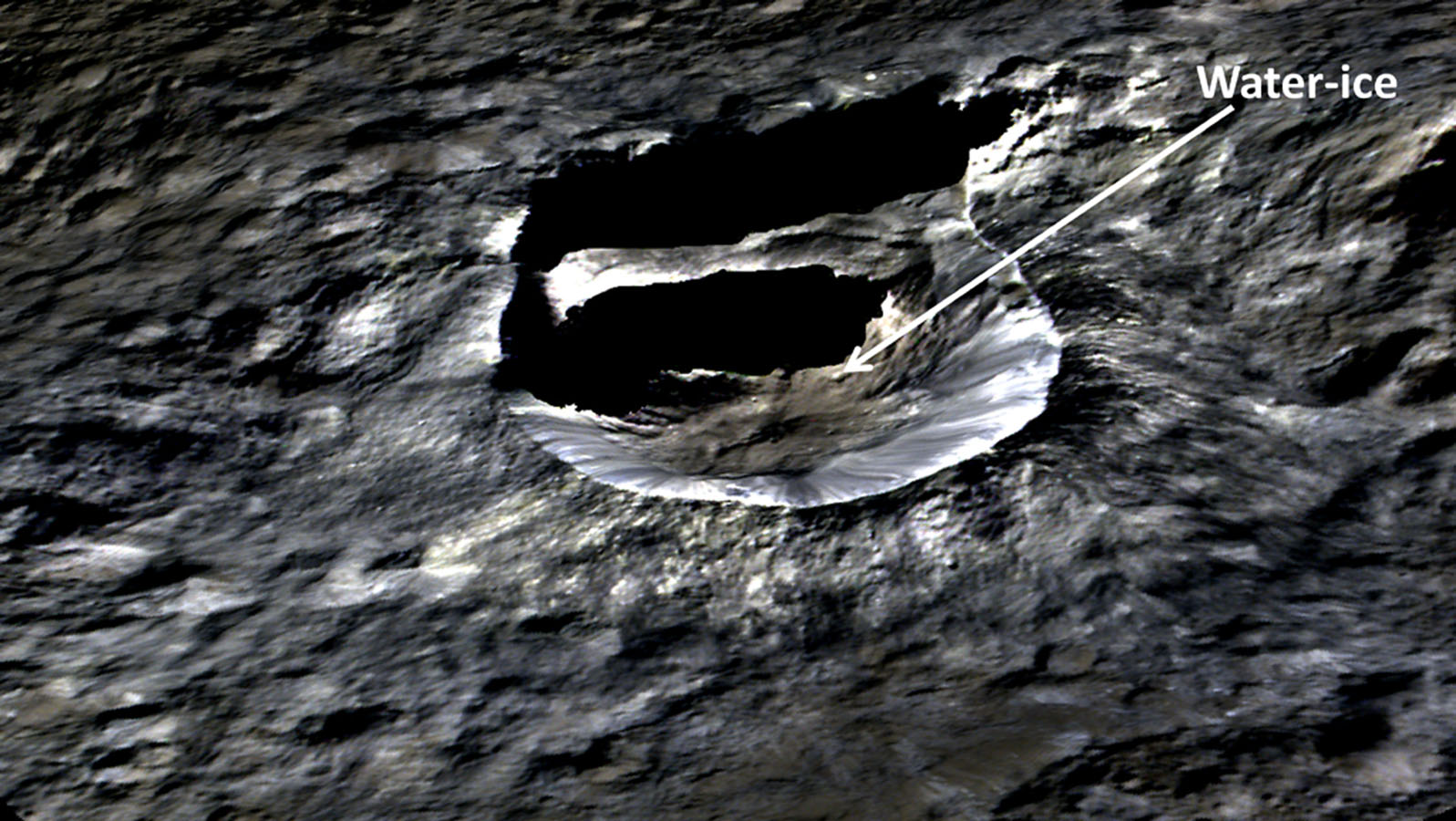 The small, bright crater Oxo (6 miles, 10 kilometers wide) on Ceres is seen in this perspective view. The elevation has been exaggerated by a factor of two. The view was made using enhanced-color images from NASA's Dawn mission. Dawn's visible and infrared mapping spectrometer (VIR) has found evidence of water ice at this crater. Credit: NASA/JPL-Caltech/UCLA/MPS/DLR/IDA
NASA's Dawn spacecraft has continued its survey of the dwarf planet Ceres this year, discovering rock-bound ice hidden just beneath the airless world's rugged surface and a handful of icy outcrops inside craters in the northern hemisphere, raising hopes that Ceres could have once held a buried habitable ocean of liquid water.
Dawn does not carry instruments to probe for water deep underground, but the mission's examination of Ceres's surface properties point to a watery presence at some point in the dwarf planet's history.
"Liquid water had to be in the interior of Ceres in order for us to see the mineralology that's on the surface — the phyllosilicates (clay minerals) — and also the concentration of the hydrogen that we see in the equator that's presumed to be ice-free," said Thomas Prettyman, lead scientist on Dawn's Gamma Ray and Neutron Detector, or GRAND, instrument from the Planetary Science Institute in Tucson, Arizona.
"So Ceres's surface, the fact that it's ice-rich, and that there are alteration products on the surface, means that at some point in time there was liquid water," Prettyman said in a Dec. 15 press conference at the American Geophysical Union's fall meeting in San Francisco.
Circling around the sun inside the asteroid belt between the orbits of Mars and Jupiter, Ceres formed from a collection of pebbles and dust in the proto-solar system around 4.5 billion years ago, likely farther from the sun thats its current location, giving it a heritage closer to the moons of the outer solar system than most asteroids.
"We're interested in what was happening right after Ceres accreted, and we're mostly interested in whether the water and volatiles separated from the granular material, created a subsurface ocean, and the water and rock interacted in ways that would have produced a chemical environment which would have been conducive to life, a habitable environment," said Carol Raymond, the Dawn mission's deputy principal investigator from NASA's Jet Propulsion Laboratory in Pasadena, California.
Ceres likely lost its supposed liquid ocean more than 2 billion years ago, Raymond said. Before that point, Ceres might have been much like Jupiter's moon Europa or Saturn's moon Enceladus, two hot spots in the ongoing search for microbial life in the solar system.
If an ocean was under Ceres's surface, it froze as the dwarf planet cooled billions of years ago, when its internal natural radioactive heating source decayed. Europa and Enceladus are subjected to tidal heating from the strong gravitational pull from Jupiter and Saturn, and thus retain their liquid oceans today.
"When Ceres froze out would have been likely fairly early on … within a couple billion years of its accretion, so before the freezing part, if there was substantial water-rock fractionation, and there was a substantial water ocean, then all of these chemical processes that were occurring that were creating the phyllosilicates (clays) we see would have provided the energy and the environment that would have been conducive to life," Raymond said. "So I think it's pointing toward Ceres being an interesting object, mostly equivalent to Europa or Enceladus in terms of its habitability potential."
---===---===---===---
Above information is from,
astronomynow.com/2016/12/23/hunt-for-water-at-ceres-goes-underground/
---===---===---===---
Water Ice on Ceres Boosts Hopes for Buried Ocean
The largest and only dwarf planet in the solar system's Asteroid Belt might harbor hidden water where life could evolve
By Nola Taylor Redd on April 4, 2016
www.scientificamerican.com/article/water-ice-on-ceres-boosts-hopes-for-buried-ocean-video/
Thank you for reading. Feel free to share, discuss, and post. Thank you!
Source Links:
science.nasa.gov/science-news/science-at-nasa/2014/22jan_ceres
www.space.com/35035-water-on-ceres-in-permanent-shadow.html
www.scientificamerican.com/article/water-ice-on-ceres-boosts-hopes-for-buried-ocean-video/
astronomynow.com/2016/12/23/hunt-for-water-at-ceres-goes-underground/
www.space.com/35052-water-everywhere-on-dwarf-planet-ceres.html